Let customers speak for us
Original console accessories
Located in Idaho, USA, Earth. Ship worldwide.
No, I don't grow potatoes, but I do like to eat them :)
What is MiSTer?
The wildest classic gaming project you've ever seen. And it keeps getting better.
What makes MiSTer special?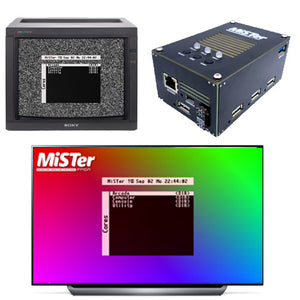 Low Latency Output
FPGAs simulate circuits in real-time. The result is that zero latency audio, and analog video. Digital video boasts as little as a few scanlines of latency on most modern displays. The result is an extremely responsive game experience which is almost exactly the way you remember on original hardware. If you're a streamer, you're going to love the dual analog + digital video output provided by the IO board add-on.
Flexible and Fast Input
I know your type- you are one of those "original controllers only" people. Whether you choose SNAC for native controller ports with zero latency, or with fast USB adapters, MiSTer has you covered. What? You're not one of "those" gamers? No problem, MiSTer also handles USB and Bluetooth controllers with ease (Bluetooth dongle required). Enable 1000 Hz USB polling for a good time.
Free Open Source Software
Two of MiSTer's main goals are accuracy and hardware preservation through open source. Long after the DE10-nano FPGA developer kit is gone, the digital logic documented in the MiSTer project will live on. With several thousand users, development and testing happens in rapid succession. Tools like MDFourier are leveraged to ensure console-accurate audio.