Let customers speak for us
An absolute must have!
Ok I'll be honest, I was aware of the Mister but didn't know what it was. It wasn't until analogue dropped the ball with the turbo duo preorders by increasing the price. I then saw a tweet from Porkchopexpress on Twitter claiming that the mister can perfectly run Turbografx and Turbografx CD games perfectly that I decided to research it and end up buying one for myself because I thought it would make a great addition to my retro gaming. Oh man, this thing is everything everyone said it was and then some. You have well over 50+ cores and endless supply of gaming. I haven't even mentioned the flawless arcade games on the Mister. Everything works amazingly. You can even use original controllers to make it feel as authentic as possible. I hate to say it but it looks like I may retire all my consoles from the ps1 and below, as there is no more need for them. The Mister does it all and then some. If you were ever hesitant or have even a small curiosity, I say go for it. You will not regret it. It was so easy to learn how to use and now it is in my everyday rotation of gaming. I love it and I can't see myself without one. I decided to get the Rampage Red which looks so much better in person. The build quality is beautiful and very sturdy. It feels like a quality product and have had zero issues with it. I will definitely be buying a second mister just to have one in the game room and one in the living room. Thank you again Porkchopexpress for tweeting about the Turbografx when you did or I would've never considered getting the Mister.
MiSTer FPGA Pre-configured Bundle (with Aluminum Case)
Incredible & Well Worth the Money
I had no idea how much I was going to love the MiSTer, especially in this preconfigured bundle. I wondered if I should build one myself, but I figured after adding up all the upgrades, I'd rather just get a MiSTeraddons box that's ready to go with everything you need. I'm constantly amazed by what this little box can do; it looks great on a 4K TV and it looks incredible on an old school CRT. I love the fit and finish of this box too. My only complaint (and it's minor) is that the buttons "spin around" and make noise when you move the box, however they still have a nice satisfying click to them. I absolutely love this preconfigured MisterAddons MiSTer box.
I debated between the digital or the analogue bundle for awhile, but went with the analogue bundle because it makes it much easier to hook up to a CRT with the VGA output. The extra SDRAM is not a necessity.
And one final plus is that the MiSTer community is amazing. They have wikis and guides everywhere on how to get started or how to fix more complex issues. The DEVs are passionate and constantly update the cores. They're even working on an N64 core, can't wait for that.
This little MiSTer box took me by surprise and I continue to use it almost every day. One of the best purchases I've ever made.
MiSTer FPGA Pre-configured Bundle (with Aluminum Case)
Zophar says: SNAX Adapter working great!
MiSTeraddons.com is my go-to site for all things MiSTer, and the SNAX adapter is no exception! Arrived fast, works like a charm and I was even able to beat the infamous 2nd level of Mortal Kombat Mythologies using my original PS2 controller - backwards compatible with 1 and worked great with the adapter! The Domain approves!
MiSTer FPGA SNAC Controller Adapters (NES, SNES, Genesis, PC Engine, PSX, Saturn)
Great Wi-Fi and Bluetooth adapter
Works perfectly with 2.4ghz and 5ghz wifi, and requires no setup on MiSTer. Just run the wifi script to connect to your network
MiSTer FPGA Bluetooth and WiFi USB Adapters
Expensive, but worth it!
I had been skeptical over buying a Mister since I already had so many other platforms that could play the games that run on it and a pretty good scan converter to improve the image on modern TVs. Let me just tell you that this simplifies the whole setup to a degree that I'm not sure how I lived without it. I'm incredibly impressed with the progress on CPS2, PS1 and Saturn cores as well. The red case is really classy and much smaller than I anticipated.
MiSTer FPGA Pre-configured Bundle (with Aluminum Case)
Incredibly easy to use
For a long time I was under the impression that the MiSTer FPGA was complicated to use but I couldn't have been more wrong. I picked up the pre-configured bundle as well as the SNAX and some adapters and wow it was incredibly easy to use and the cores I have tried out have been incredibly responsive and fun. Highly recommend picking up a pre-configured bundle from MiSTer addons it's worth the money and that rampage red case is absolutely gorgeous!
MiSTer FPGA Pre-configured Bundle (with Aluminum Case)
1A+++++ Wow!
optimal communication, fast shipping, good availability. Can be highly recommended to everyone at any time. Thank you very much for your service!
MiSTer FPGA Pre-configured Bundle (with Aluminum Case)
My Blast has never been better!
What can I say about this incredible kit that hasn't already been said. Easy to set up, the guides made it easy to configure, and the customer support was top notch. I'm so happy with this purchase that I plan on putting them in ALL my cabs. ❤️
MiSTercade Kit | MiSTer FPGA JAMMA Arcade Kit
Love it!
High quality and easy to assemble. Get one!
MiSTer FPGA Aluminum Passively Cooled Case (Universal)
Works great with the Multitap and physical memory cards.
MiSTer FPGA Serial Native Accessory Converter (SNAC and SNAX)
Easy to setup, great quality!
No problems grabbing a connection here! Beautifully small and powerful. Highly recommended!
MiSTer FPGA Bluetooth and WiFi USB Adapters
Surpasses expectations!
Got my mister yesterday. Love it so far, especially for how easy it was to get the arcade games up and running.
The Aluminum case looks great (I got the rampage red) and since it was all setup it only took me about 5 minutes to get it up and running.
Definitely recommend it. Thanks guys
MiSTer FPGA Pre-configured Bundle (with Aluminum Case)
MiSTercade Kit | MiSTer FPGA JAMMA Arcade Kit
MiSTercade Kit | MiSTer FPGA JAMMA Arcade Kit
it is epic
better than expected and ready to go out the box, replaced my argon retropi/recallbox setups and allows me to easily capture video/audio signal. I love it.
MiSTer FPGA Pre-configured Bundle (with Aluminum Case)
Excellent product
I switched from a analog i/o board to a digital I/O board recently and I needed to figure out how I was going to power my main board and the USB hub as well. This product did exactly what I needed to do plus its compact enough that it makes it a clean and tight package for my setup. Highly recommended.
MiSTer FPGA DC Power Jumper
Original console accessories
Located in Idaho, USA, Earth
No, I don't grow potatoes, but I do like to eat them :)
What is MiSTer?
The wildest classic gaming project you've ever seen. And it just keeps getting better.
What makes MiSTer special?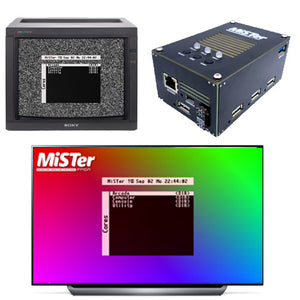 Low Latency Output
FPGAs simulate circuits in real-time. The result is that zero latency audio, and analog video. Digital video boasts as little as a few scanlines of latency on most modern displays. The result is an extremely responsive game experience which is almost exactly the way you remember on original hardware. If you're a streamer, you're going to love the dual analog + digital video output provided by the IO board add-on.
Flexible and Fast Input
I know your type- you are one of those "original controllers only" people. Whether you choose SNAC for native controller ports with zero latency, or with fast USB adapters, MiSTer has you covered. What? You're not one of "those" gamers? No problem, MiSTer also handles USB and Bluetooth controllers with ease (Bluetooth dongle required). Enable 1000 Hz USB polling for a good time.
Free Open Source Software
Two of MiSTer's main goals are accuracy and hardware preservation through open source. Long after the DE10-nano FPGA developer kit is gone, the digital logic documented in the MiSTer project will live on. With several thousand users, development and testing happens in rapid succession. Tools like MDFourier are leveraged to ensure console-accurate audio.