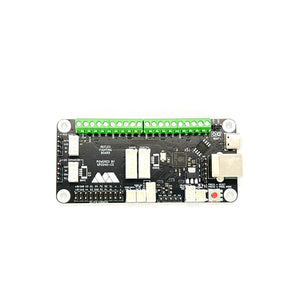 Want to build your own arcade stick with one of the fastest (0.84 ms) encoders in town? Then you need this GP2040 Fighting Board remix. The boards come flashed with OpenStickCommunity's GP2040 firmware (v0.7 at the time of writing) 
Features:
Replaced Raspberry Pi Pico development board with an onboard implementation to save space and improve aesthetics
Transient Voltage Suppression (TVS) diodes for Electro Static Discharge (ESD) protection
Sanwa and Seimitsu joystick headers
Screw terminals for the old school players who want to manually wire buttons
20 pin header for the new school players who want to use a pre-made button harness
Extra button headers
RGB LED headers
SOCD Cleaning
USB-B and USB-C connectors
Built in web server for configuration (https://gp2040-ce.info/#/web-configurator)
Headers for future features
No USB C cable or panel mount is included.
All PCB source files can be found here.
Firmware updates:
Firmware can be found here: https://github.com/OpenStickCommunity/GP2040-CE/releases
To flash a firmware, plug the device into a computer, then press the program button twice. Alternatively you can hold <Up + S1/Select + S2/Start> while plugging in USB. A device called "RPI-RP2" will appear. Copy and paste the .uf2 file onto that drive, and it will flash, then reboot automatically.
Pico Fighting Board Reflex Edition V1:
Firmware version: GP2040-CE_X.X.X_PicoFightingBoard.uf2
Pinout:
Reflex Fighting Board (V1.1):
Firmware version: GP2040-CE_X.X.X_ReflexEncoder.uf2
Use the web configurator by holding S2/Start while plugging in and navigating to http://192.168.7.1/pin-mapping)
This version requires swapping the Left and Right pins as shown below.
Reflex Fighting Board V1.2:
Firmware Version: GP2040-CE_X.X.X_ReflexEncoder.uf2 
Perfect for Vewlix/Chewlix
Just got two of these wired up in my vewlix diamond blue. Super easy to get hooked up and with the right wiring harness you can have both these and your JVS or FastIO hooked up at the same time. Works perfectly with the 20pin header to make wiring a breeze but has every option under the sun to meet any scenario. I've got a 2P panel en route and it's great to know it will be literally plug and play. Awesome little boards, go get 'em.
One of the best input boards I have ever used
SImply stunning, ease of use and the input delay being so low was a big game changer for my vewlix cabs. Thanks again for the wonderful products!
Amazing!!
Works super well, I used a Brooks 20pin header and was able to connect 13 buttons. Shipped fast, arrived in excellent condition and Mister Addons helped me with setup even when my questions were extremely noob. 10/10.
Amazing Fighting Board with THE BEST Customer Service Ever
I purchased two of these boards to replace the guts of a manufacturers stick that had a less than desirable encoder in it. Everything was super easy to hook up and works flawlessly with Brook style wiring harnesses.
My problem arose when one board wasn't working. I had tested everything as best as I knew how, reflashed the GP-2040 firmware (which is SUPER easy to do), but came up short and contacted customer support. Got an answer immediately and after some back and forth a new board was on it's way from the great state of Idaho.
When the new board arrived I realized my folly. I had plugged the harness in backwards and still feel like an idiot. So... ALL THREE BOARDS WORK PERFECTLY. Super fast, with no missed inputs. A really great community project made even better and easier with the Reflex board from MisterAddons.
Thanks again!