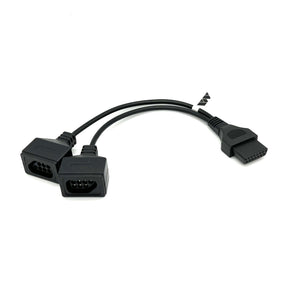 Want to use your NES controllers/joysticks/light guns with your Famicom? Now you can! The cable label indicates player 1 side.

Only standard controllers and joysticks will work. Accessories like Super Scope, multitap, etc. will not work.
Note: Not all games read input devices connected to the Famicom Expansion port. JeffQChen created a PCB fix here: https://github.com/jeffqchen/Famicom-Expansion-Port-Switcher
Double dipping retract
The company have refund for double shipping charge. Happy to see that a company still cares about the customer. Items are amazing and working great
An Excellent Solution to Short Famicom Cables
Works great! A great, affordable solution for the short Famicom controller cable length it you have extra NES controllers laying around.
Works Well
Works exactly the way you would expect! Great to be able to shoot using my preferred Nintendo 8 bit system again. :)
A good way to play NES light gun games with a Famicom system
I actually thought about modding the AV Famicom console to would with a NES Zapper... but thought it would be too much hassle.
I thought that maybe I should make my own adapter but do not have the time nor the parts to make one... Overall it is well made adapter. It is a bit tight when I tried to remove the NES zapper on the 2nd controller port of the adapter but probably in time, it will be slightly looser.
Glad I got it
Works as it should, even for a few 4 player games!
Very nice getting to use my dogbone controllers with my Famicom! It even acts as a "simple adapter" to support 12 or so of the 4 player games (mostly Kunio titles, but also the Micro Mages homebrew which is awesome):
https://www.nesdev.org/wiki/Four_player_adapters