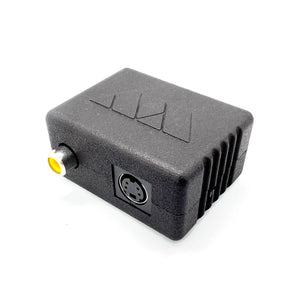 Grab a short VGA cable (with pin 9 connected for 5V power) here
Outputs S-video (Y/C) and composite video simultaneously
Active Luma trap for cleanest composite video possible on MiSTer
Tuned for NTSC but works with PAL
Switch to toggle between direct video, and IO board input (position closest to VGA input = Direct Video input)
VGA connector is HD-15 female (VGA cable needed to connect to the IO board or direct video adapter)
5V in from USB-C or VGA Pin 9 (set jumper to 5V on IO board behind VGA port)
No cables included - not all VGA cables have pin 9 wired. If you're not getting output, power using USB-C
Not all cores have support for YC, including some computer cores, pre-release cores, etc.
MiSTer.ini settings:
vga_mode=svideo (never use cvbs setting)
ntsc_mode=0
composite_sync=1
Looks amazing!
Can't say better things about the picture quality of the S video and composite adaptor!
Ok
32x color works well.
Ps1 works well, now.
I will say the video quality is a bit chunkier than the rgb to svideo converter. Also, the color looks more washed and takes a fraction of a second to kick on when booting to menu or core. Also, it's a bit fuzzier. It doesn't have as much composite rainbowing though, but the svideo on either one doesn't really get that anyhow. Definitely the way a lot of these cores were intended to output video signals.
Fantastic adapter <3
The board's YC encoding works like a charm, providing sharp, vibrant images on a CRT. The board's robust build and reliable performance have made it an indispensable part of my retro gaming setup. It's clear that a great deal of thought and craftsmanship has gone into creating a product that truly delivers on its promises.
Awesome piece of tech!
I really appreciate the options for connecting to old consumer CRTs that this device provides for the digital I/O boards without the need for "specialized" vga cables. Also while not a needed feature, it is pretty fun to geek out and to do simultaneous s-video and composite output. For the psx and saturn cores you can definitely see some instances were composite signals for some games could be seen as a better choice. Anyways, really well built device that is easy to use and only adds to the MiSTer's versatility.
Amazing Video Output
S-Video is pristine, but the real surprise is the composite output. Hands down the best looking composite output I've ever seen. Worth every penny and yet another excuse for not throwing away some composite only tubes.