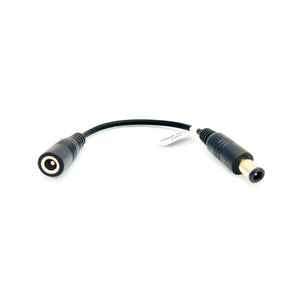 Use this to adapt a 5.5x2.1mm 9V center negative power supply (NES, Jaguar, TurboGrafx-16, PC Engine, AV Famicom, Super Famicom, etc) to a North American SNES!
The cable is wired straight, i.e. center pin to center pin and shield to shield so make sure you are using a 9V CENTER NEGATIVE power supply. Look for this symbol on your power supply.

Did the trick!
I'd ordered a premodded SNES off Ebay, but the seller wanted $30 for an AC adapter. I had a stack of inexpensive Triad WSU090-1300-R, but knew I needed a barrel adapter. This did the trick! My new SNES is up and running. Thank you!