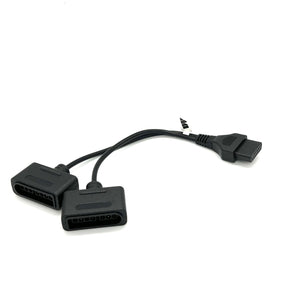 Want to use your SNES controllers with your Famicom? Now you can! The cable label indicates player 1 side.

Only standard controllers and joysticks will work. Accessories like Super Scope, multitap, etc. will not work.
Note: Not all games read input devices connected to the Famicom Expansion port. JeffQChen created a PCB fix here: https://github.com/jeffqchen/Famicom-Expansion-Port-Switcher
Essential Cables for Famicom Owners
I purchased the NES and SNES adapters, and I could not be happier! The adapters work with every US NES and SNES controller I own, including 8BitDo wireless 2.4g controllers like the N30 and SN30. For those interested in an affordable alternative to the Video Shooting Series Light Gun for the Famicom, the NES adapter allows your Zapper to work on the OG and Twin Sharp consoles. Playing Famicom/NES games with a Super Famicom ASCIIPad is quite nice as well. This is an excellent, inexpensive way to diversify the ways you can play your Famicom. Worth it!