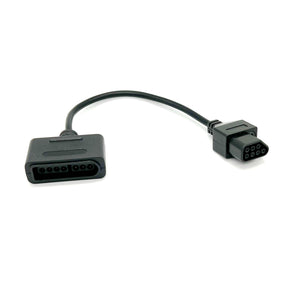 The SNES Controller to NES Console Adapter enables you to use your SNES controllers with your NES. Please note, only standard controllers and joysticks are compatible, and accessories such as the Super Scope and multitap will not function.
Great product
Update**
This works perfect on my front loader nes and I love it. I use it mainly for speed running.
I thought the part that plugged into my nes was a little to long or something but it does fit. It just fits pretty tight.
Perfect
Ordered the adapter so I could use a NTT Data Pad for Intelevision games, works perfectly. Thank you!
Works great
I haven't used this adapter super extensively, but it seems to work perfectly on my AV Famicom for as long as I have, might buy a few more to have as spares
Must have
Thanks for making these adapters, snes controllers are just more comfortable use and work perfectly on nes with this adapter.
Nice adapter!
Very well constructed adapter. Works great.