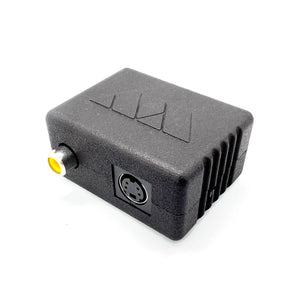 Grab a short VGA cable (with pin 9 connected for 5V power) here
Outputs S-video (Y/C) and composite video simultaneously
Active Luma trap for cleanest composite video possible on MiSTer
Tuned for NTSC but works with PAL
Switch to toggle between direct video, and IO board input (position closest to VGA input = Direct Video input)
VGA connector is HD-15 female (VGA cable needed to connect to the IO board or direct video adapter)
5V in from USB-C or VGA Pin 9 (set jumper to 5V on IO board behind VGA port)
No cables included - not all VGA cables have pin 9 wired. If you're not getting output, power using USB-C
Not all cores have support for YC, including some computer cores, pre-release cores, etc.
MiSTer.ini settings:
vga_mode=svideo (never use cvbs setting)
ntsc_mode=0
composite_sync=1
Absolutely freaking Amazing!
Love this little thing! Purchased another model from a different vender and though S-Video worked fine on his unit composite had some god awful "shimmering" effect that just gives you eye fatigue. Mister Addons YC adapter includes Luma Trap which does away with the shimmering and it looks beautiful …. That is to say, beautiful washed out and smeary just like I remember as a kid :-)
Haven't seen the waterfall in Sonic look this good without using actual hardware in over 30 years. DEFINITELY recommend.
Impressive
Works exactly as advertised. The quality of the composite video is almost as good as the s-video output. Nothing bad to say about this device. Just works.
Works like a charm
I needed a connection for a 'TATE' component only CRT setup, and misteraddons YC board works perfect. Between Mike YC cores and all the cores with integration now, I'm pretty sure I have 100% access to the available TATE games on MiSTer and the look gorgeous on my sideways CRT.
It's fantastic! MiSTer Addons / community team-up delivers again
MiSTer Addons products really enable use of any tv or monitor or any kind of input you want to play around with. Sometimes you only have access to TVs with certain inputs and sometimes you just want to explore the way games looked with different inputs. Well you are totally covered between the IO boards, this adapter and RF sold on here. There are so many lightly used TVs that go to the landfill that have thousands of hours left in them which is a bummer when it's plug and play to get the most ideal "filter" for games of that era
Looks amazing!
Can't say better things about the picture quality of the S video and composite adaptor!