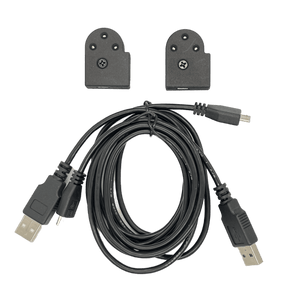 GunCon3 uses infrared LED emitters which are positioned on top of the TV. Because the gun triangulated position based on sensors, it can be used with any kind of display, from CRT, to flat panel, to projector. GunCon3 guns are quite rare and expensive, but hopefully aftermarket emitters give life to guns that have long since been separated from their originals.
To install, place a square of velcro / double sided tape over the case on top of the screw hole, and stick to the back of the TV along the top edge so the IR LEDs are visible. Plug the USB-A end of one cable into the tv and the other end into one emitter. Next, take the second cable and connect the two emitters. The emitters will glow red when properly working. Combined, the emitters draws 270mA at 5V.
Work like a charm
Love these! Super easy to set up and they just work! If you're on the fence on getting them, do yourself a favor and place that order.
Perfect for mister
Bought this a while ago. Today I managed to test it with a ps3, and on mister using the nes,snes, and genesis core. Tracking is fast and precise, amazing ! Not all mister cores play nice with these but I'm told other users have had better luck. Either way this is the best cheap option for lightguns on the mister.
Works fantastic with my Guncon 3!
When your IR emitters are better than the official ones, you know you've done something right. Thanks so much!
Better than the original GunCon 3 emitters
As a very happy owner of the GunCon 3 I have to say, these emitters are much better than the originals. They're smaller and the included cables are of great quality. The best part is how smartly they're designed with connection ports on every side of each emitter making these super easy to mount on the TV. A must-buy if you own a GunCon 3!
Terrific design, skip the housing.
TL;DR Smaller + lighter + cheaper = better
These perform very well, and are easy to install. I also own the Laser Bear emitters (which are good), but I still prefer these, let me explain why.
While a housing seems like a good idea, it actually isn't. No matter how amazing the design for such a plastic shell is, there will never be a one-size-fits-all mechanism for securing emitters to your TV. Case in point, the aforementioned LB emitters have a nice housing with a built in hinge and cable clamp, but all of that is pretty much useless, because in almost all scenarios you're still going to end up attaching these to your TV with adhesive/velcro. As such, any added cost or mass is undesirable, if not a complete waste, because you want them to be small and light. Also, the housing made for these is quite underwhelming anyway, you can get more details from my review on that product page.
These are tiny, featherlight, and priced very well. I'm going to buy some more :D