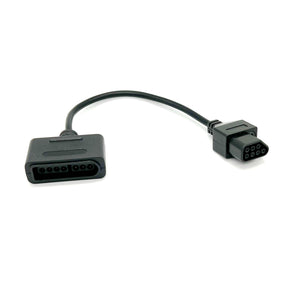 Want to use your SNES controllers with your Famicom? Now you can!
Only standard controllers and joysticks will work. Accessories like Super Scope, multitap, etc. will not work.
Works great
I haven't used this adapter super extensively, but it seems to work perfectly on my AV Famicom for as long as I have, might buy a few more to have as spares
Must have
Thanks for making these adapters, snes controllers are just more comfortable use and work perfectly on nes with this adapter.
Nice adapter!
Very well constructed adapter. Works great.
Good stuff
I'm looking for ways to decrease the number of video game accessories and controllers. This is perfect because instead of having two NES controllers and two SNES controllers, I now only need two SNES controllers.
Original Hardware Controller Adapters